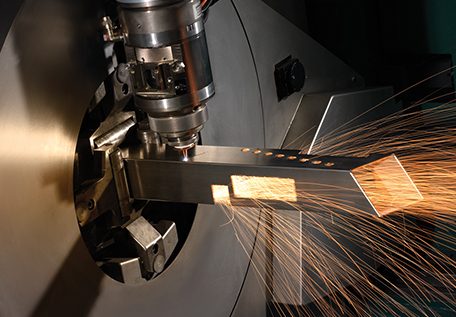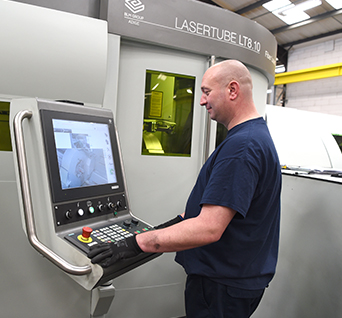 Tube Cutting
As the market leader for subcontract Fibre Laser Tube Cutting Services, 5750 Components Ltd offer high quality tube and box section cutting services up to 8.5m in length and 240mm diameter.
Our 33,000 sq.ft facility has the capacity to process both large batch orders and small order requirements with the highest of accuracies. We have the capability to cut extremely complex requirements cleanly and consistently, making us the Tube laser subcontractor of choice.
Our LT8.10 Fibre Tube laser is one of the most advanced laser cutting tube machines available and is fully equipped with an improved 3D tilting head which makes it possible to do 45° chamfers and other more complex cutting patterns including weld prep cuts in thick walled tubes. Our Tube Laser cutting machine produces some of the greatest cutting speed available across a variety of thickness and diameters.
Tube cutting can reduce manufacturing time as it can remove the need for additional operations including punching and drilling therefore reducing costs and lead times for laser cut parts. The diversity of cuts available include circular, box, channel, angle and flat
We have the following tube cutting capabilities:
Cutting Capability
Standard Tube: Round, square, rectangle and flat sided oval
Open Profiles: Angle, Flat and Channel
Special Profiles: Special shapes tubes or open sections can be programmed and cut without problems

Dimensions
Tube: up to Ø 240mm
Box: up to Ø 200 x 200mm
RSA: up to 200 x 200mm
Max. weight: 340kg
Max weight per single tube: 40 kg/m
Max. component length: 8.5m
Max. bundle loading weight: 5000kgs
Materials and Thickness
Mild steel: 12mm
Stainless: 8mm
Aluminium: 8mm
Brass: 8mm
Copper: 5mm
Galvanized Tube: 12mm
The machine at our site can cut complex contours without touching the tube, producing a quality, scratch free component. Thanks to investments in the latest state-of-the-art laser cutting machinery, there is virtually no refinishing required.
Send us your Tube Cutting requirements