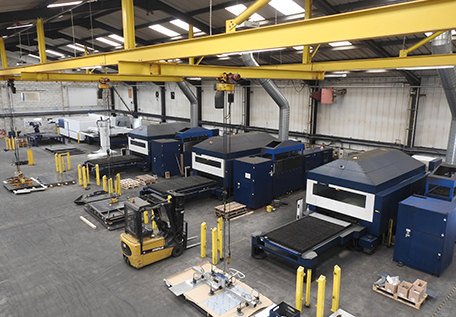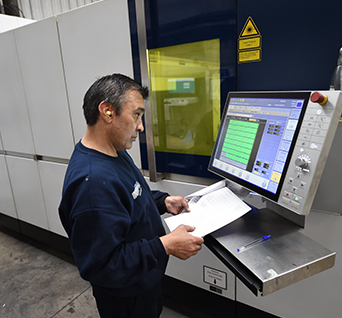 Laser Cutting
5750 Components Ltd offer rapid lead times on CNC laser cutting and metal profiling up to 4m x 2m. Our 30,000 sq.ft facility boasts 4 of the latest fibre and CO2 laser cutting machines and combined with our 24/7 cutting schedule means we provide a service with unrivalled precision and speed without compromising on quality.
Following our recent investment into fibre laser technology, we can cut the following materials:
Stainless Steel: Up to 40mm
Mild Steel and Aluminium: Up to 25mm
Brass and Copper: Up to 10mm
If larger thicknesses are required, we also have the capability within group to waterjet cut any material up to 7.2m x 2.3m x 200mm thick.
Our laser cutting suite is complimented by our team of dedicated laser sales estimators which offer some of the fastest quotes and lead times on the market today. We hold high volumes of material including Stainless Steel, Aluminium, Mild Steel and Wear Resistant Steel and have most grades and thicknesses readily available, allowing us to offer competitive rates and quick turn-around times. Our impressive collection of CNC lasers we have the capacity to cut parts up to 4m x 2m whilst still ensuring the highest levels of precision.
With over 25 years of laser cutting expertise from our facilities in Merseyside, we are accredited to industry standards BS/EN 1090 and ISO 9001:2015, which ensures the highest quality products are produced.
Laser cutting has many advantages and has the ability to cut complex shapes without the need for traditional tools. Following significant investment into new machinery, 5750 Components now offer laser cutting of tube and box section profiles up to 8m meters in length and 240mm in diameter. Read about our Tube Cutting capability.
Send us your laser cutting requirements