5750 Components invest in state-of-the-art 12kw Fibre Laser - first of it's kind in the UK!
Knowsley based contract manufacturing specialists 5750 Components has made history and invested in the UK's first 12kw fibre laser. The new machine arrived mid July and is now up and running after being fully comissioned at the end of August.

The recent investment comes off the back of an exceptionally busy couple of months at the company and this new investment will provide faster cutting speeds than was previously offered. The 12kw Trumpf Laser has added 100 hours of extra cutting capacity per week at our Knowsley based site.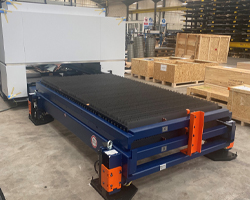 Mike Fitzgibbon, General Manager at 5750 Components said: "We are absolutely delighted to have been the first company in the UK to have invested in the new Trumpf 12kw fibre laser. This investment will give us an extra edge against our competition and allow us to offer our customers even better lead times than before."

As part of WEC Group, investment is key to the growth of the company and this new state-of-the-art laser is one of many recent investments for the Group this year. WEC Group's Waterjet division WECJet has recently invested in a new Multi Bevel Plasma Cutting machine at their Blackburn based facility to offer a cheaper alternative to laser and waterjet cutting.

If you would like to speak with our sales team or to send any laser cutting RFQs, contact sales@5750components.co.uk